Light up was held at Kiyomizudera in Higashiyama Kyoto until December 2.
Since Kodaiji and Enshukuin were also lighted up even around Kiyomizudera Temple, there were many people who watched it together.
There are many places to light up in the Higashiyama area.
Kiyomizu Temple, Kodai-ji Temple, Yeonjukuin, Chion-in Temple, Aoba-senpin, … It's all there is to imagine soon.
It seems there was a special nightly worship with a meal at Tofukuji. I would definitely go next year.
Light up of Kiyomizu Temple
Kiyomizu Temple (Taken in 2018)
The best shot among me.
The blue light represents a heavenly dragon or something.
Last year I took a photo from the same position.
Is the renovation work surely until 2021?
Kyoto Tower far away
The store is open until late during the light up.I want to go next year as well.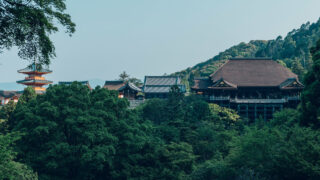 音羽山 清水寺
京都府京都市。「清水の舞台」で知られる寺院。北法相宗の本山(一寺一宗)。縁起、年中行事、境内案内。