Speaking of restaurants in Gion, there is a high-class image.
"Mame cco(豆cco)" is a cheap and delicious restaurant for me.
How to get to "Mamecco(豆cco)"
The location of "Mamecco(豆cco)" is on the north side of Shijō Dori(四条通), and enters "Gion alley(ぎをん小路)" which is near "Yasaka Shrine(八坂神社)".
Then you will see a lantern that says "Mamecco(豆cco)".
A obanzai restaurant "mamekko" where the mom runs singlehandedly.
From Shijō Dori(四条通) to "Gion alley(ぎをん小路)"
Enter while pounding
Warmth and lanterns of "Mamecco(豆cco)" mark the restautant.
There are 7 counter seats in the restaurant.
With a small space and a kind smile of mom, it is a calm space where you can spend time in a natural way without worrying about it.
Occasionally restaurant is crowded, she refuse customers.I heard that many overseas customers visits.
When I visit here, I can learn various stories and study. Often it is getting more than a feeling of fullness of meals.
I often meet tourists from overseas when I go there. The other day when I went there, I met a customer from Singapore.
Handmade tofu and obanzai(Home cooking in Kyoto) of "Mamecco(豆cco)"
Menu of "Mamecco(豆cco)"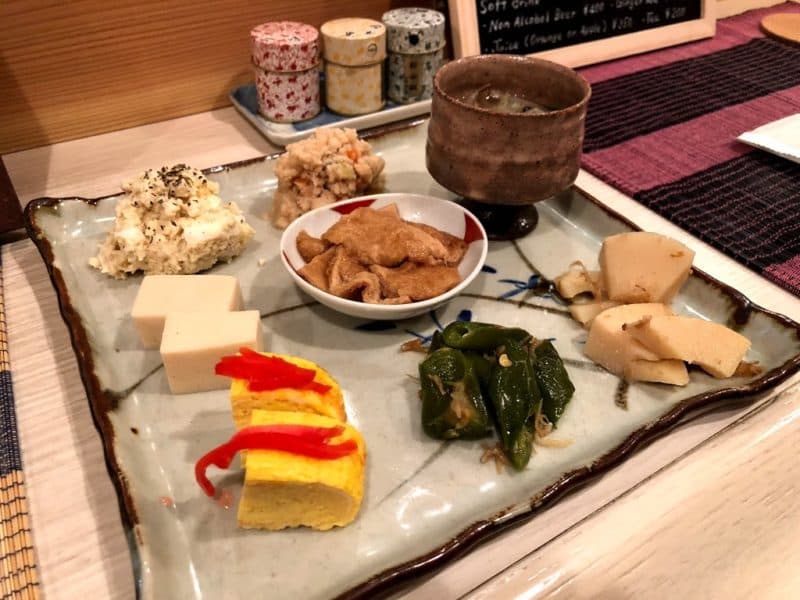 Assorted "obanzai(おばんざい)"
Assorted "obanzai(おばんざい)"
Assorted "obanzai(おばんざい)"
My recommended menu of "Mamecco(豆cco)"
When I recommend this shop, there are two menus to recommend.
Okara salad and pumped up Yuba(Tofu-skin,湯葉).
Mom's home was a tofu(豆腐) shop in Uji city of Kyoto, so if you want to eat delicious tofu(豆腐), I recommend "Mamecco(豆cco)".
Both are really good. I am not good at telling the taste, so I will skip the explanation, but these two are masts.
"Mamecco(豆cco)" is open without a break during the New Year holidays.
If you would like to eat Obanzai(おばんざい) and Tofu(豆腐), you should go here!
For more information on the shop please visit the link below.
According to what I hear it is not in the menu, but Omelette rice made by mom is also superb like, if I have the opportunity I want to try it by all means.